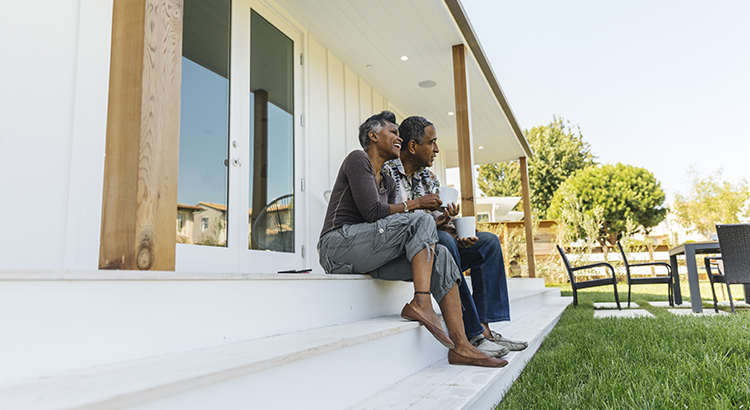 Locals know that Silver Creek Valley is a great place to raise a family. The scenic Silver Creek Valley resides on a mountain ridge and is bordered by numerous oaks and environmentally protected areas thru the heart of the community while the hillsides, parks and golf courses have estates that can see all the way to San Francisco on a clear day. There's is an abundance of open space, hiking trails and great schools.
Silver Creek value comes from its welcoming warm atmosphere, where neighbors participate enjoying various spectacular amenities enjoying a great convenient location.
There are many upscale home styles and communities to choose from. All the great neighborhoods; Silver Creek Country Club (Gated community), Bel Aire Luxury Estates, The Ranch, Hillstone, The Meadowlands, Tuscan Hills and California Oak Creek have this in common. Pride in ownership is obvious when the residents, whether renters or owners, maintain their homes and care about their neighborhood.
Every home buyer has a wish when looking for a home, while not all of them are granted, the 'feel good magic' happens when they start selling homes around neighborhoods of this beautiful area.
It's the people what makes this place a little different from others, It's a great place to live.
Today I would like to speak to you about Is it Time to Move into a Single-Story Home?
Once the kids have left the nest, you may be wondering what to do with all of the extra space in your home. Chances are, you don't need four bedrooms anymore, and it may be a great time to sell your house and downsize, maybe even into a single-story home. You've likely gained significant equity if you've lived in your home for a while, so making a move while demand for your current house is high could be your best step forward toward the retirement goals you set out to achieve several years ago.
The dilemma, though, is where to go next. A big concern for many homeowners who are ready to sell is finding a home to move into, given today's lack of houses available for sale. There is, however, some good news: the number of single-family 1-story homes being built today is on the rise, improving your odds of finding the right home for your changing needs. In a recent article, The National Association of Home Builders (NAHB) explains:
"Nationwide, the share of new homes with two or more stories fell from 53% in 2018 to 52% in 2019, while the share of new homes with one story grew from 47% to 48%."
Here's a map showing the breakdown of newly constructed homes being built by region, and the percentage of 1-story and 2-story homes in that mix: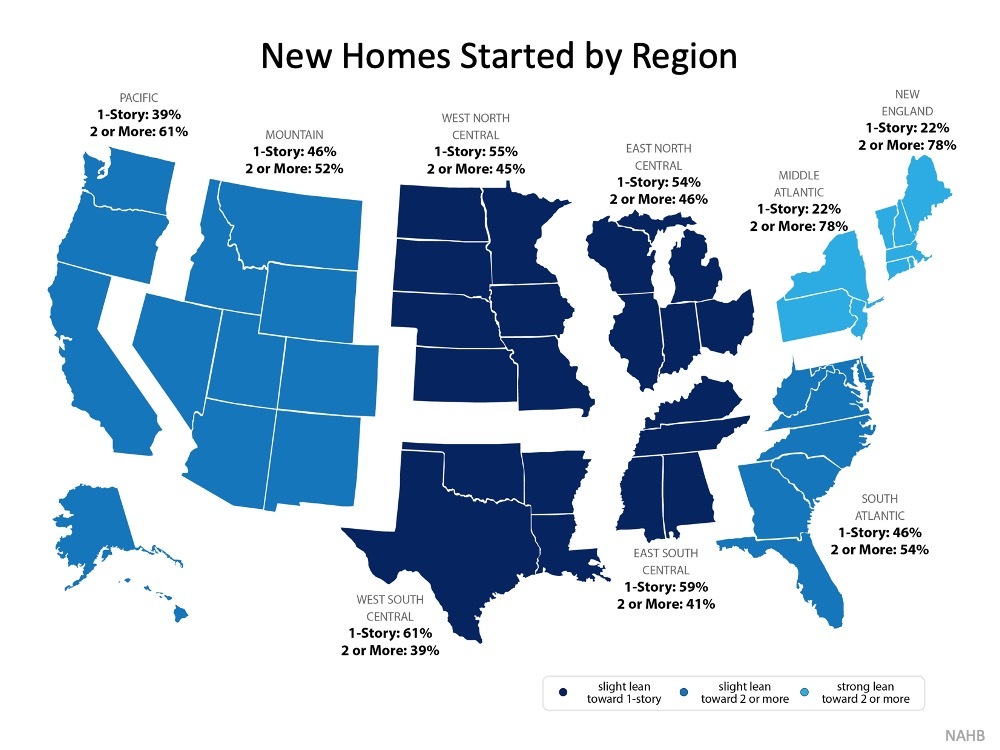 What are the benefits of buying a one-story home?
Still not sure about buying a single-story home? An article from Home Talk covers several advantages of switching from two floors to one:
1. Energy Efficient
"It is easier to heat and cool a single-story house [than] it would be to regulate the temperatures of a multi-story house."
Most single-story homes only need one heating or cooling unit, and they typically stay cooler than a two-story home, both of which can lead to significant savings.
2. Easier to Maintain
"Doing a general cleaning in a single story requires less effort and you will be able to see all areas that need cleaning and the areas are easily accessible."
Cleaning and maintenance of a single-story home can take less time and effort, and better upkeep helps improve the overall value of the home.
3. Accessible for Everyone
"A single-story house can be accessed by anyone, whether they are young children or the senior citizens."
If you're looking for a house that provides a safe and easily accessible environment at any age, a single-story home may be optimal.
4. Good Resell Potential
"When buying a single-story house, you should consider the resale value should you think of reselling it in case of a circumstance that can happen. Look at the growth rate of that area. Due to the high demand of these types of houses it is [easy] to resell them and depending on the growth rate of an area, it increases in value significantly."
Single-story homes have a lot of benefits and are often in higher demand. This bodes well for future resale opportunities.
Bottom Line
There are many benefits to downsizing into a one-story home. Doing so while demand for your current house is high might make it easier than ever to make a move. Let's connect if you're ready to purchase the single-story home you need while homes are so affordable today.
"All agents are NOT alike, We are Different … and We Want To Earn Your Business and Trust"
"The real estate market is constantly changing. I would like the opportunity to show you some of the new ways in which you are able to buy, sell and search for new homes".
We continually invest in the latest technology to give you the most up to date information on homes for sale and the most exposure for your property when selling.
Give us a call at 408–741–9300 before buying or selling your next home.
Don Orason, Owner — Silicon Valley Real Estate Team
www.siliconvalleyrealestateteam.com